Project Home
It offers 2 BHK, 3 BHK, 3BHK + Servant, and 4 BHK plus Servant accommodation with very high end specifications redefining the luxury lifestyle with spacious accommodation. It is spread in an area of 12 acres out of which 5 acres is kept as an open green area with landscaping and water bodies designed by ATKIN UK and project architecture by world renowned STUDIO DRA,UK.
Wave Gardens is a part of an an integrated township of 300 acres name WAVE ESTATE which is known for the hi-end and top quality delivery. The complete Sector - 85 is a gated complex across TRI- CITY with 3 tier security .
LOCATION : Located in Sector – 85, Mohali which is off 200 feet International Airport Road and is situated in the heart of Mohali with direct connectivity ready.
ABOUT BUILDER
A Company with a unique identity which encompasses the entire real estate category. It inherits equity from the mother brand Wave to promote a vast array of verticals, namely, Commercial and Retail. Wave Infratech, the real estate arm to Wave, is one of the leading palyers in the sector and in en route to become one of the largest real estate developers in the country.With the ground breaking commercial projects like WAVE City Center, Wave One, Wave 1st Silver Tower, Wave Eleven, and outstanding integrated townships like Wave City and Wave Estate, Wave Infratech is revolutionizing the real estate arena and has achieved accolades for these futuristics and mommoth projects. Also, adding to its profile are a host of Wave Malls and Waves Cinemas across the northern belt of the country, making Wave Infratech one of the most reputed names in the industry.
Floor Plans
(click on the picture to enlarge)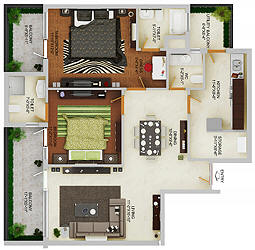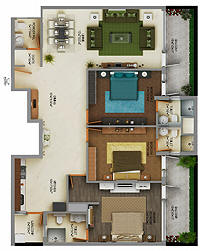 2 BHK
3BHK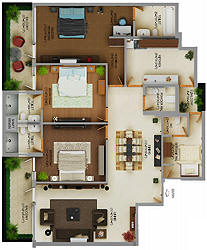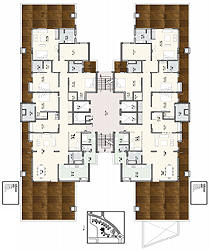 3 BHK - S
4 BHK Penthouse
Payment Plans

BASIC SALE PRICE – Rs.4450/- per sq.ft.

(With 3 year subvention)

Construction Linked Payment Plan:



On Booking


3.0 Lacs for 2BHK,

5.0 Lacs for 3BHK ,3+S & 4 BHK

Within 45 days of booking 15% of Sale Price less


Booking Amt.

15%

Within 90 days of booking 10%

On commencement of construction 10%

On completion of Ground floor roof slab of the Tower 7.5%On completion of 4th floor roof slab of the Tower 7.5%

On completion of 8th floor roof slab of the Tower 7.5% + 50% of PLC if Applicable

On completion of 12th floor roof slab of the Tower 7.5% + 50% of PLC if Applicable

On completion of final roof slab of the Tower 7.5% + 50% of Club Membership

On completion of external plaster of the Tower 7.5% + 50% of Club Membership

On completion of Internal Flooring 7.5% + 50% of Car Park usage rights

On completion of Services 7.5% + 50% of Car Park usage rights

On intimation for possession 5% of Sale Price + IFMS 5% + other applicable charges + Stamp Duty & Registration
Charges

*Timely Payment Rebate of 4% on Construction Linked Payment Plan.

Down Payment Plan: (with10% Rebate)



On Booking 10% of BSP

Within 45 Days of Allotment 95% of BSP including Booking Amount


(Less: Down Payment Rebate*)+100% PLC(if applicable)+ Car Park usage charges.

On Intimation for Possession 5% of BSP + other applicable charges + Stamp Duty + Registration Charges

NOTE:


• Down Payment Price shall be calculated taking rebate @ 10% of 85% of Basic Sale Price, which is subject to change without notice.

• Service Tax would be payable as applicable

• Stamp Duty/Registration Charges shall be payable along with the last installment, as applicable.

• Sinking fund –Rs 10 /sqft .per annum.

• PLC – 5% of BSP.

Other charges – Basement car parking-Rs.200000 each
Additional car parking- Rs.1,25000/ (each)
Club membership- Rs.75000/-
IFMS- Rs.50 per sq feet



Area of 3BHK is 1885 sq.feet @4450 per sq feet 83,88,250/- additional charges.

Area of 3BHK+S is 1990 sq feet @4450 per sq feet 88,555,00/- additional charges.

Area of 3BHK+S is 2075 sq feet @4450 per sq feet 92,33,750/- additional charges.

Area of 4BHK+S is 3160sq feet @4450 per sq feet 1,40,62,000/-additional charges.

Area of PENT HOUSE is 6310 sq feet @4450 per sq feet 2,80,79,500/- additional charges